We love our clients! Fortunately, they seem to love us too!
Here's what a few of them have to say…
Creating web applications is anything but a pure science. The guys at N-VisionIT have been invaluable during the design and development stages of getlifepoints.com. They've demonstrated a real commitment to making sure that everything functions perfectly. It pays to go with an experienced team who will work closely with you and can offer advice at every stage of the process.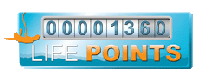 Brent (N-VisionIT Interactive CEO) is the first person I have met or worked with in the IT space and Internet who understands that another expensive but pretty website or nice app is not a solution, it is a problem. A problem because a solution is more SALES. Hardly anyone knows how to drive sales in an organization and incorporate modern tools like Facebook ads or promoted Tweets as well as search engine friendly sites and apps. If this were all Brent and his team could do, that would be a lot. But they'll re-engineer your business model too to drive sales even higher. I strongly recommend them.

For years I've learned to set my expectations low when working with developers. If they say they'll deliver in a week I've assumed it will be two! If they say a project will take 10 hours I've come to expect that it will overrun, and I'll have to put in almost as much time checking their work as they spent coding to pick up the mistakes they've made. So it is a true revelation to work with a company that turns my problems into solutions and delivers work that is both timely, but most important, correct the first time.